EASILY INTEGRATED FILTRATION TECHNOLOGY
GreenFumeHood 3.
The most powerful technology in the world is even better suited to your laboratory.
Significant benefits of GreenFumeHood 3 for your laboratory.
GreenFumeHood 3 technology.
Chosen by the largest manufacturers
of laboratory furniture.
GreenFumeHood 3 is offered by the largest installers in Europe, Asia, and North America whose clients benefit from their expertise and experience.
3 production sites and 25 installers worldwide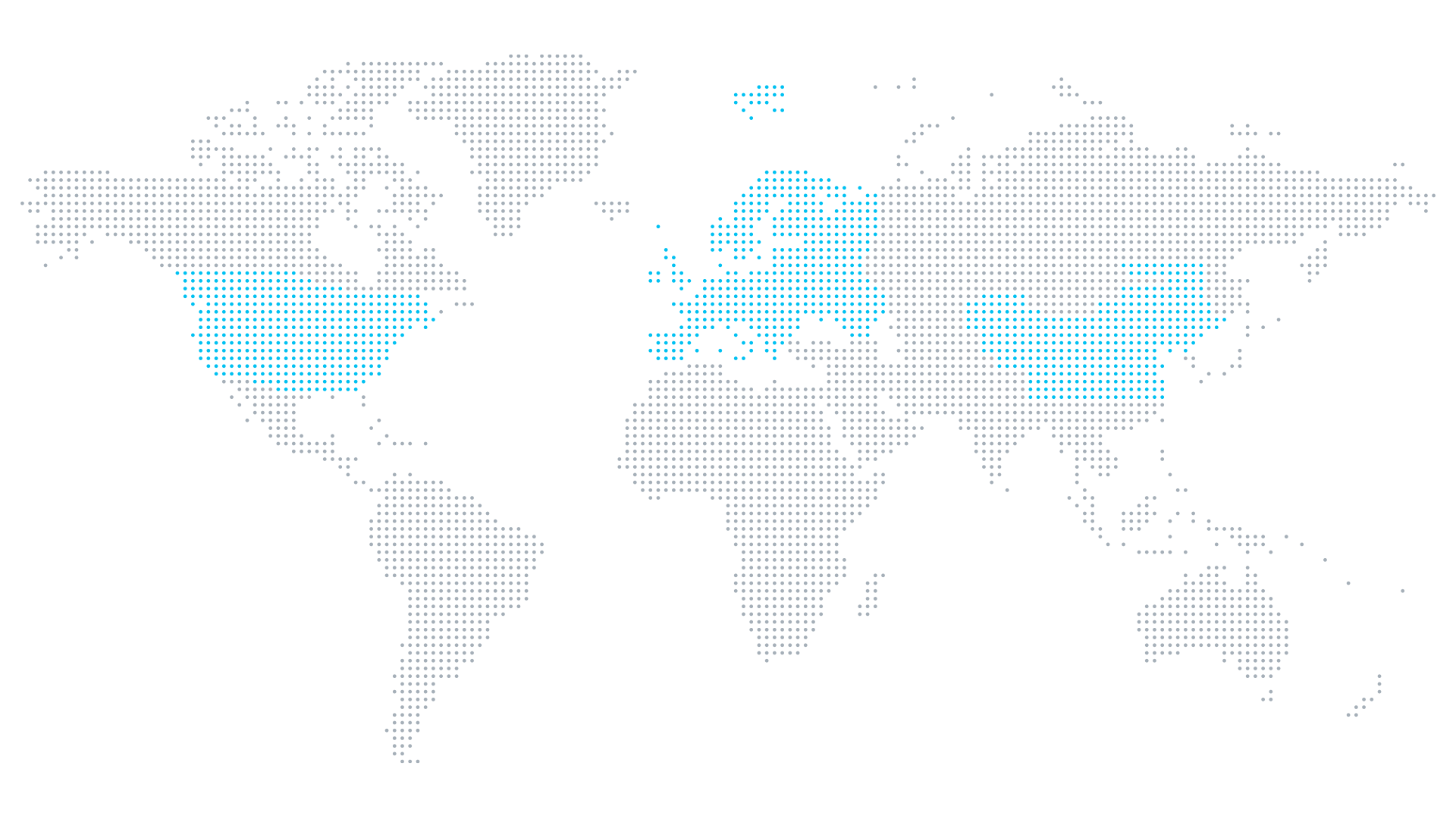 Erlab representative office
Erlab representative office
Erlab representative office
Erlab representative office
Erlab representative office
Erlab representative office
Erlab representative office
Erlab representative office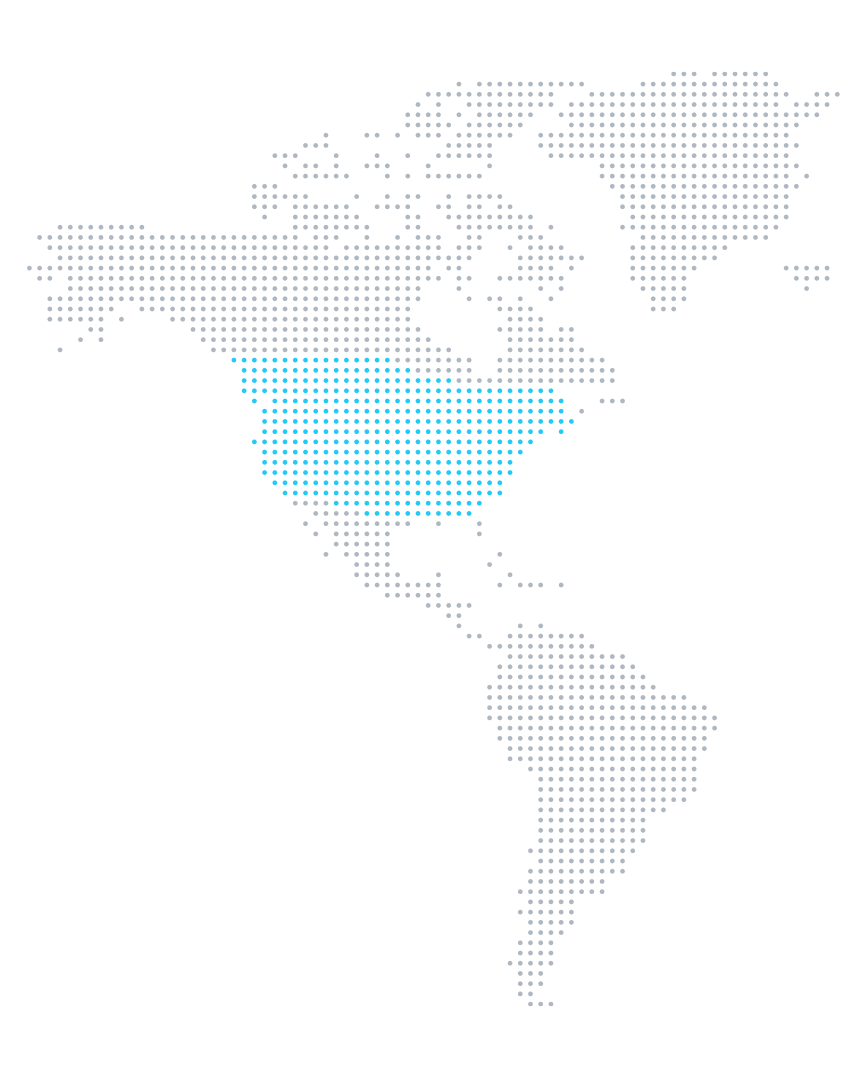 Erlab representative office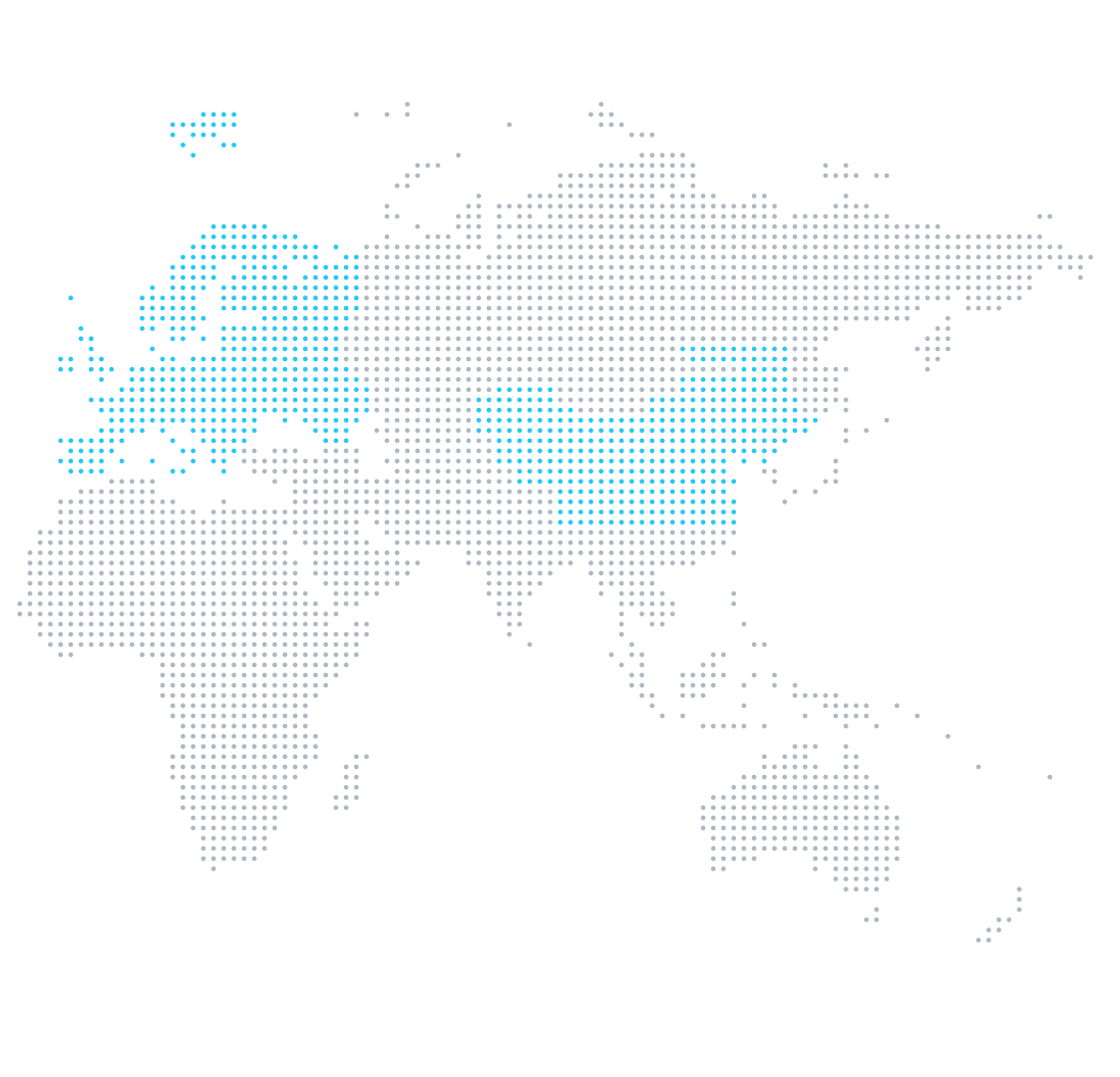 Erlab representative office
Erlab representative office
Erlab representative office
Erlab representative office
Erlab representative office
Erlab representative office
Erlab representative office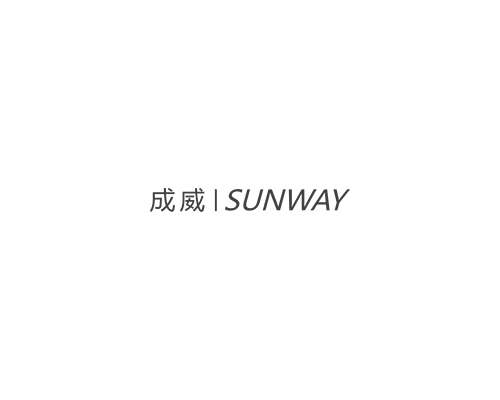 As a leading supplier of laboratory equipment, Chengwei is a technology-based company integrating R&D, manufacturing and sales. The production base has a total of 60,000 square meters and 200+ employees, equipped with excellent production equipment and industry-leading production technology.
The products far exceed national standards and relevant international standards, and all technical indicators of the entire product range have reached the industry's leading level. The company has been awarded as a national high-tech enterprise, a special-purpose enterprise and a municipal-level R&D centre for automatic variable air volume fume hoods, and has successfully applied for nearly 100 patents. The company has become a certified member of the Shanghai Laboratory Equipment Association (SELA) and a certified member of the Scientific Equipment and Laboratory Furniture Association (SEFA) of the U.S. In 2019, the company hired Mr. Chip Albright, former president of the SEFA Association, as our long-term technical advisor, and we will provide our customers with high-end laboratory construction concepts in the industry.
Chengwei is willing to work with laboratory engineers to create high standard laboratory projects to make China's laboratory industry more professional, laboratory environment more safe and laboratory personnel more healthy.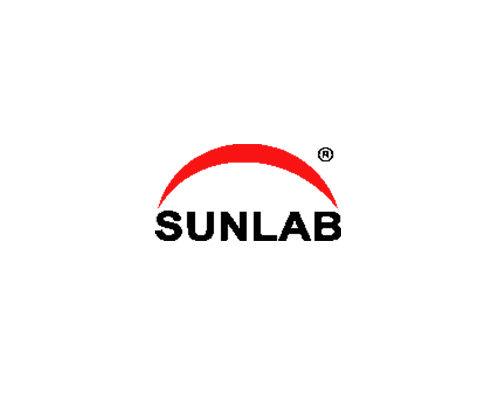 SUNLAB specializes in laboratory planning and construction; a professional R&D high-tech enterprise focusing on laboratory digital intelligent control system, clean safety protection system and intelligent laboratory green energy-saving solutions. More than 300 acres of intelligent manufacturing production base, all imported metal plate flexible production line processing technology, the United States ASHRAE standard testing laboratory, performance testing of all products in line with international standards.
A well-known brand of global laboratory intelligent equipment and a world class digital facility supply platform.
World-leading product quality and manufacturing processes. One of the earliest and largest integrated laboratory digital facilities, high-tech research and development enterprises in China. Author of industry standards.
Pioneer and promoter of the concept of green, intelligent, digital and smart laboratories.
A designated enterprise for green procurement by the Chinese government.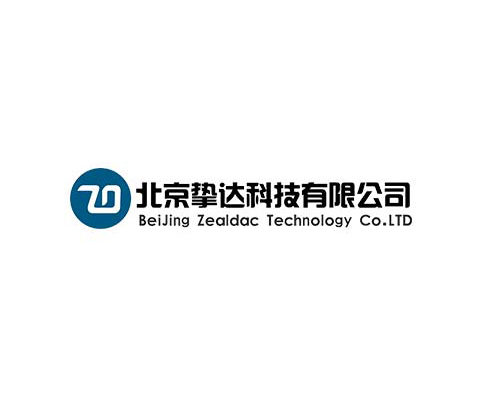 Beijing Sincere Technology Co., Ltd, part of the Rebea Group, is an integrated service provider offering "a complete set of solutions for laboratory construction", undertaking consultancy, process design, general contracting of process engineering, equipment and instruments and laboratory operation and maintenance services related to it.
Laboratory buildings cover a wide range of scientific and innovative fields such as agriculture, food, chemical, pharmaceutical, medical, biological, energy, quality control, etc. Depending on the industry sector and the content of the experiments, the architecture, interior, electromechanics, processes and characteristics of each room vary. Through the technical team of Best Technology, the client's needs are transformed into engineering language and engineering symbols, and then through the professional integration of Best Technology, the architectural design, architectural engineering, decoration design, decoration engineering, process design, process engineering and instruments and equipment under the Rebea Group are linked in the huge service system of the Rebea Group, which can optimise the construction process for the client, save process costs, avoid The laboratory is not simply a working environment.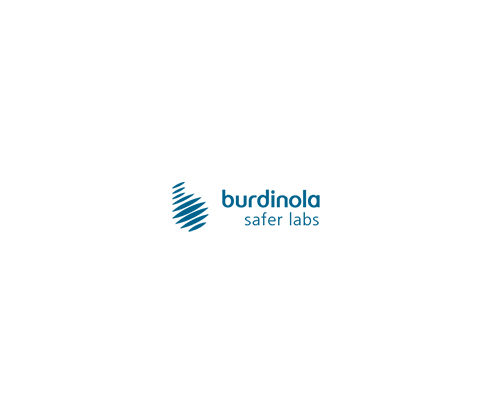 Burdinola, a company specializing in the planning, integration and installation of laboratories, aims to be your INTEGRAL SOLUTION SUPPLIER, through a value proposal involving the integral development and management of any of the project phases, but always keeping in mind the entire process vision and follow-up. We offer the advantage of integrating our own products and promoting any associated peripheral services as an integral part of the offer.
Burdinola offers advanced technology solutions serving the premises of sustainability, ecodesign and applicable standards, applicable in both the global scientific building, and in the specifics of laboratory furniture.
We are in the select group of companies that can ensure, WORLDWIDE, advanced technology solutions for the latest generation of research laboratories.
Getting here has been the result of long experience and high technical expertise, and especially the professional spirit of a team that has always been committed to innovation and total quality.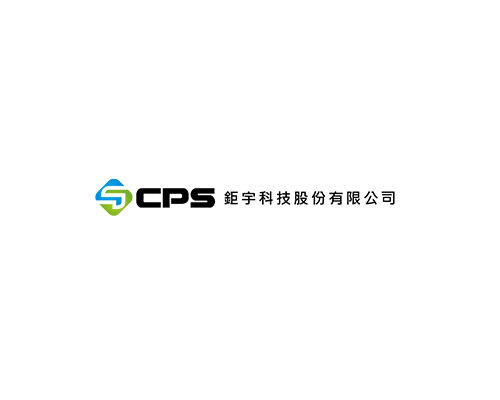 With the rapid development of global connectivity and the increasing demand for innovation in the field of technology, the importance of laboratories for education, research and development and testing is becoming increasingly important. Combining the cooperation of professionals in ventilation control, laboratory furniture and plumbing and electrical installation, with years of experience in serving various laboratories and continuous learning of relevant international regulations and standards, our team is committed to providing a standard and safe green laboratory from the point of view of user's work safety, so that experimental safety, work efficiency and energy saving can be achieved at the same time.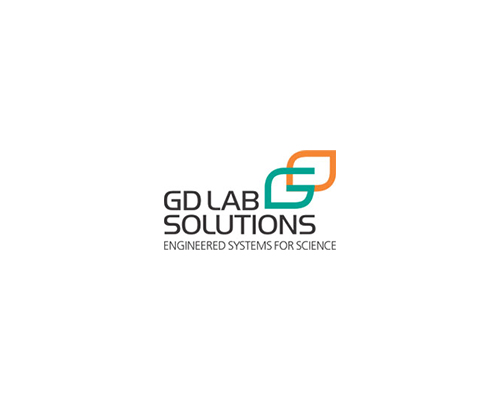 GD began manufacturing Laboratory Furniture and Fume Hoods at a factory in Vadodara in 1979. A modest beginning, powered by a futuristic vision, constant innovations, research-driven endeavours, steadfast commitment to quality and customer-focused service principles made GD emerge as a pioneer in this field.
35 Successful Years In Business
GDLS takes pride in having the largest and most satisfied customer-base across the length and breadth of India. We have practically built laboratories in all States, across most industries – pharmaceutical, chemical, petro-chemical, engineering, segments, including the Education sector. This wealth of experience makes GD , the most favoured name among the country's scientific community.
Consistently Good Quality Of Products
After converting the laboratory market from using Wood to more environmentally friendly Steel Furniture, we have now moved on to be the First in India to offer SEFA compliant Laboratory Grade Metal Furniture certified by Intertek, USA along with highly safe, rugged, energy efficient Fume Hoods. We reaffirm our commitment to deliver consistently good,
world-class quality of products to the industry. We were one of the first few companies to get the ISO certifiction, for Laboratory Furniture Systems and Fume Hoods. Besides ISO 9001:2008 certification, we also have IS0 14001:2004 and OHSAS 18001: 2007 certifications.
Customised Solutions
Our expertise over the years has helped us improve our understanding of the needs of different kind of laboratories through a broad variety of our customers, which include pharmaceutical, food, chemicals, plastic & polymers, environment, education, petroleum, healthcare among other industries. The wide range of our manufacturing capabilities permits us to produce tailor-made items of all dimensions and specifications to offer complete need-based solutions to our customers.
Service Commitment
Our prompt and qualified Services have resulted in customers reposing faith in us time and again. Repeat customer business forms a substantial part of our business.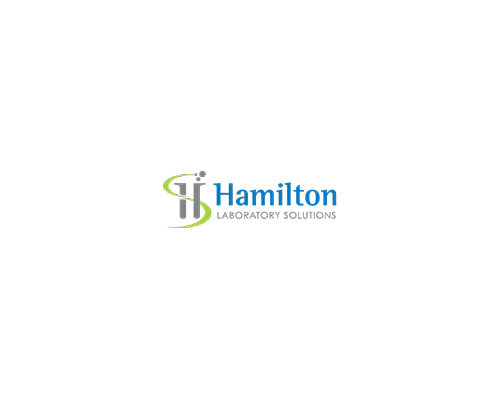 Founded in 1880, Hamilton has always been known for its exceptional craftsmanship, and our service to the scientific and medical fields goes back nearly a hundred years. We actually made all sorts of furniture and other equipment until the 1980s, when we decided to focus exclusively on the laboratory marketplace. As we entered the 21st century, Hamilton introduced an innovative class of high-performance, aesthetically pleasing fume hoods that met the new demands for energy conservation and safety. We also set today's standard for adaptable laboratory systems. In 2020, Hamilton was acquired by the Royston Group. The new ownership is augmenting our pioneering work in the laboratory industry by injecting Royston's own brand of operational excellence and manufacturing expertise into everything we do.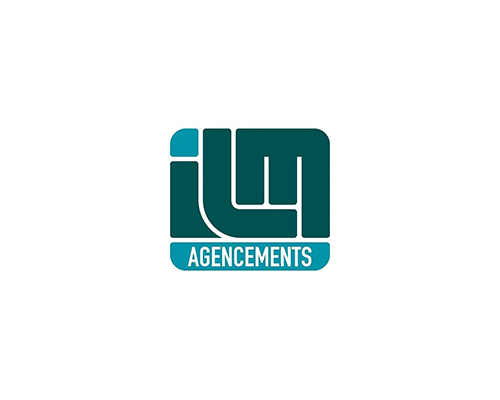 ILM Agencements is an industrial joinery located in the Grand Est region of France. Created in 198, it is specialised in the design, manufacture, installation and maintenance of technical furniture for the following activities
• Education (scientific rooms in secondary schools and universities)
• Laboratory (Research, Industry)
• Health (hospital, medical)
Our strengths
As an independent company, ILM Agencements offers a wide range of standard and customised products on a national scale (mainland France, French overseas departments and territories) and in neighbouring European Union countries. Its independence, its size (30 employees) and its own resources, from design to maintenance of its equipment, ensure its customers :
• Good communication: single point of contact (no intermediaries, limits slippage and misunderstandings)
• Reactivity
• Flexibility
• Customised manufacturing
Our technical capabilities
ILM Agencements stands out thanks to its 4 specific areas of expertise:
• Design: Design office, 2 technicians
• Production: Factory, 16 employees
• Installation: 8 installation technicians
• Maintenance/SAV: 2 technicians
We have enjoyed great stability in the distribution of employees, both in management and technical staff, over the last 3 years. Attentive and rigorous with regard to safety, we train (electrical clearance, chemical risk clearance 2, SST) and equip our employees (PPE).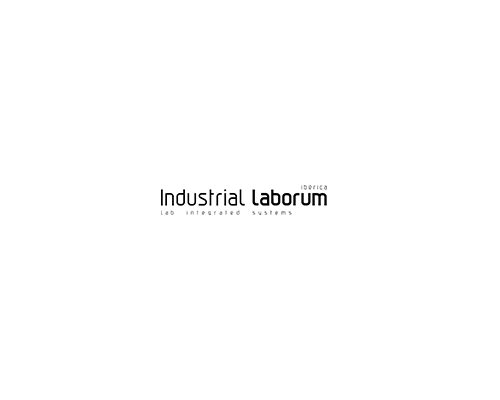 Industrial Laborum Ibérica appeared in 1978 and since then it has been driving the laboratory industry. We are laboratory specialists but what we pride ourselves on is exceeding the expectations of those who work with our company.
Over 43 years, employees have become friends, customers in partners and our laboratories in ways to achieve the future.
We operate in several sectors, but the hospital, laboratory, education and pharmacy areas have a very important weight for our company. We develop customized solutions that will allow you to have the space you really need.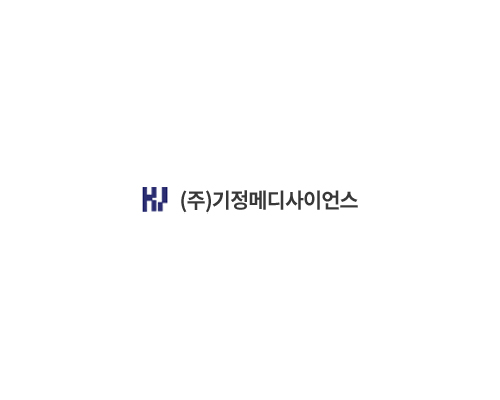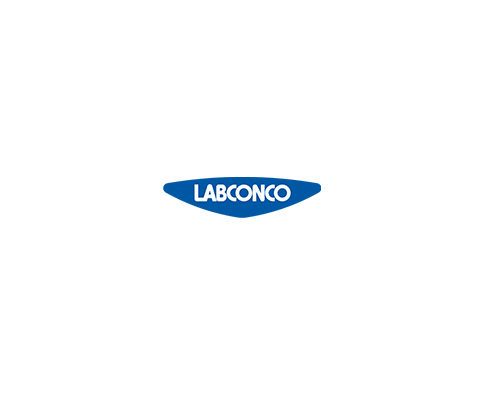 Every piece of laboratory equipment we make is a work of dedication. A shield of protection. We take genuine pride in making sure it is the best it can be.
With so much riding on the safety, quality and performance of our equipment, we don't believe in leaving anything to chance. For more than 90 years, in every decision and product that we make, our goal has been to take care of the people who depend on us. That means holding ourselves accountable to do the right thing, the right way.
Labconco is a mid-sized, privately-held company dedicated to building superior laboratory equipment.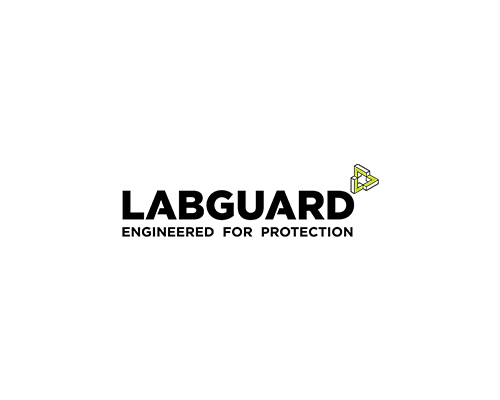 LabGuard is an 100% Indian company which designs and manufactures high performance products at its integrated 6 acre integrated manufacturing facility near Pen. With its team of 150 professionals, it serves Indian domestic markets along with African, Middle East Asian and South East Asian countries.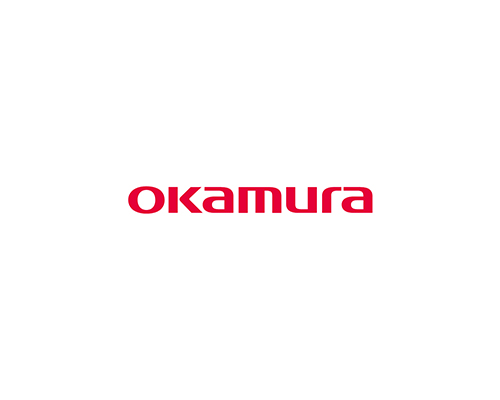 The Okamura Corporation had its beginnings in 1945, based in the town of Okamura in Yokohama. With a strong belief in Okamura's mission, the founding members brought together the technical and financial support to launch the company as the Okamura MFG. Co., Ltd., an industrial manufacturing cooperative. Okamura's founding spirit is still alive today in the five principles of the company's creed-creativity, cooperation, frugality, savings, and service. Since its founding, Okamura has provided high-quality products and services for offices, education, healthcare, R&D, commercial facilities and distribution centers under the motto "Quality pays for itself." Okamura's strength lies in extensive knowledge and technological expertise in many fields, the foundation of creating comfortable spaces for customers worldwide.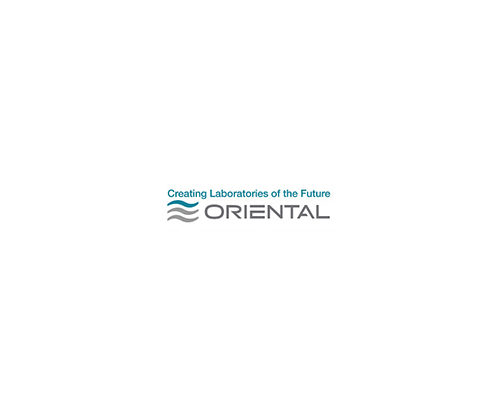 Oriental Giken brings together cutting-edge fields in biotechnology, information technology, nanotechnology, and beyond, to conduct design and installation of the research facilities of the future. We furthermore offer R&D environment consulting, and develop, manufacture and maintain products best-suited to any given research environment. At all times we are on the frontlines in enabling R&D environments that accurately fulfill the needs of our clients.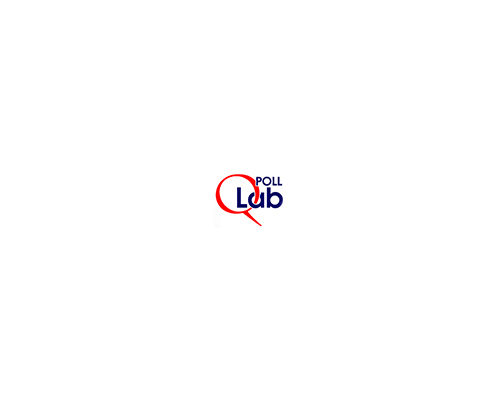 The POL-LAB Sp. z o.o. Sp. k. company has been present on the Polish market since 2004. Since its beginnings, the company has been involved in the production of laboratory equipment and laboratory furniture. What distinguishes our products are highest-quality materials, increased durability and chemical resistance as well as attractive design. Our laboratory furniture is designed according to our clients' needs and preferences. During our seven-year activity we have managed to equip over 200 laboratory facilities, which then underwent the accreditation procedure and completed it successfully.
Our products already strengthen numerous laboratory facilities, not only locally, but all over Europe. The furniture and equipment we produce is even used in countries such as: Syria, Egypt, India. Thanks to the co-operation with our clients it has been possible to create several dozens of modern measuring laboratories which have been created in accordance with the binding European standards, rules of good laboratory practice (GLP), ergonomics as well as work safety and hygiene regulations. Our crew consists of designers, engineers, salespeople and fitters who together make up a good team and put our products to the most difficult tests at every stage.
This is possible because the whole process related to the production of furniture and equipment is in our hands. The solutions and materials which we use function perfectly in the difficult conditions they are exposed to in their everyday work; consequently allowing our customers to take a "step into the future..." In this way the customers put their trust in us. The quality of products and services which we are presenting is confirmed by many seals of approval as well as certificates, issued by independent laboratories and institutions, which declare the conformity to binding standards. Irrespective of that, however, we keep improving our abilities by participating in numerous training courses on the binding standards and regulations thus ensuring safety and knowledge which we always use and share with our partners.
The diligent and well-organized functioning of our company is confirmed by the implemented and maintained Quality Management System of the ISO 9001 series. We would like to thank for your attention and at the same time invite you to our business office where you will have the opportunity to check the truthfulness of the above words.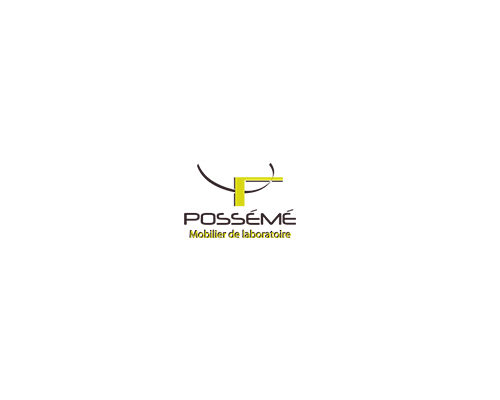 Since 1983, Possémé has been manufacturing and developing a range of laboratory furniture in compliance with standards.
It offers you customised or standardised products, thanks to its experience acquired in many fields, such as : research, industry, secondary and university education, hospital and medical environment, departmental and veterinary laboratories.
In order to meet the needs of each user, we have a team at your disposal, from design to manufacture and installation.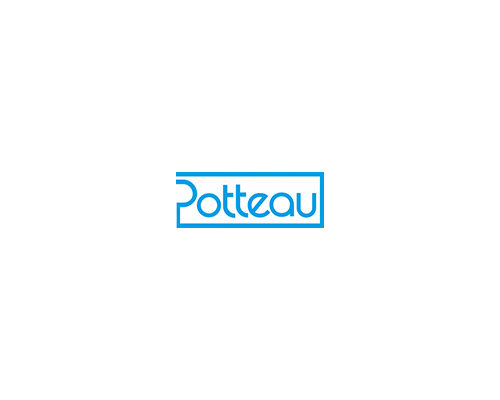 POTTEAU Labo is the market leader in Belgium in the field of laboratory furniture for hospitals and educational institutes, as well as for the chemical, pharmaceutical and food industry.
In the field of interior design, Potteau Labo also plays a leading role. Prestigious and often complex projects are part of the daily challenges that the company successfully takes up.
Since the early nineties, our almost limitless production possibilities have allowed us to accommodate luxury hotels. During the past two decades, Potteau Labo has established a solid reputation as a company that is specialized in decorating the public spaces from four or five star luxury hotels.
Furthermore, more and more museums and exhibition spaces are designed by Potteau Labo. We not only carry out prestigious projects in Belgium but also abroad. We take pride in the results of these projects because they show our professionalism and sense of detail.
As part of our expertise in the field of interior accommodation, Potteau Labo also manufactures different types of inner doors. Manufacturing and placing acoustic and fire-resistant wooden doors has become one of our specialties.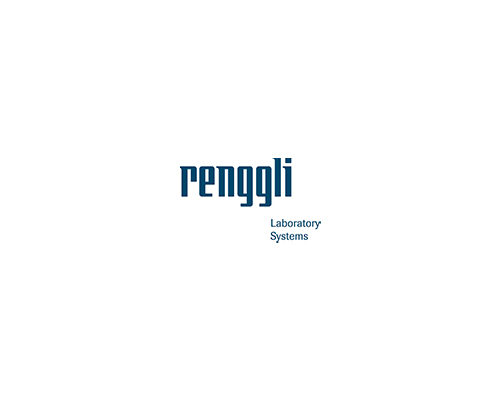 Renggli, founded in 1927, is an established Swiss family enterprise with international orientation in the realm of complete laboratory solutions. As one of the leading European producers and market leader in Switzerland, Renggli designs and implements state-of-the-art laboratories for research, industry, medicine and education. Many innumerable reference installations are evidence that Renggli is a reliable partner covering the entire range of laboratory technology.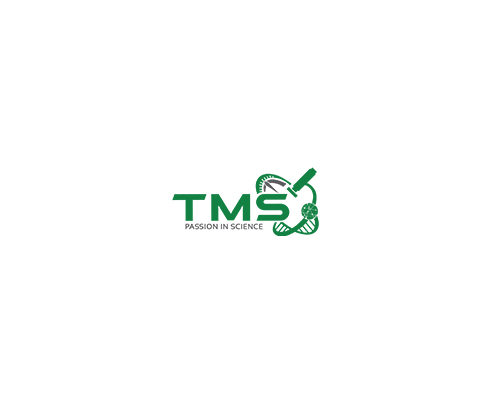 Team Medical & Scientific Sdn. Bhd. (TMS) is a team of committed professionals, all dedicated to the same goal : To improve safety, effectiveness and resilience for every customers we served.
We're a marketing organisation dedicated to provide scientific solution to solve problems related to
- Safety & Containment,
- Food & Feed Quality,
- Environmental Monitoring & Agri-Research and
- Life science Research for every laboratories and factories.
We have loyal end-users from all over Malaysia and others South East Asia countries, who rely on our portfolio of well-known products and services to solve their challenges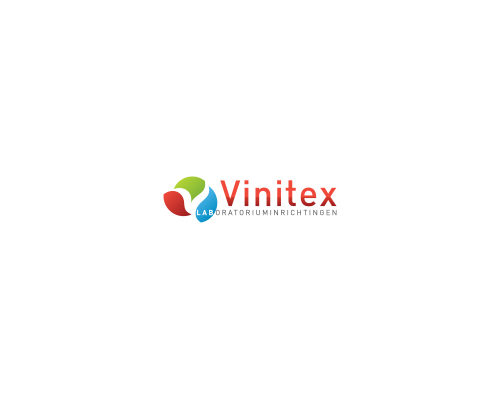 Vinitex is a company with expertise and professionalism in combination with entrepreneurship.
Our company is active in laboratory design and manufacturing and has become an international specialist in setting up Laboratories. This includes, microbiological, pathological, pharmaceutical and educational labs.
We are knowledgeable, have years of experience and we always go for quality! From the headquarters in Sint-Oedenrode, 4 locations in Germany and various resale organizations, laboratory are decorated worldwide with Vinitex laboratory furniture. Our team of staff currently consists of 80 Fte.
In Sint-Oedenrode (NL) is besides our showroom also our complete production facility where the laboratory tables, fume cupboards, storage cabinets and fans are designed and produced.
As an independent family business, the typical characteristics are felt immediately and we are at all times a professional partner for our customers. Flexibility, continuity and involvement are the basic characteristics of the relationship we have with both our employees as our customers.
Vinitex works transparent, innovative and process-oriented, involved and has, above all, love for the business. We have a great passion for our work and go for a common goal with our clients with much enthusiasm, involvement and flexibility to respond to situations, possibilities and wishes. Both small and large businesses, we offer the same attention and quality. Here you will find no warehouse full of standard products. On request, the products are produced so there is flexibility in terms of material and colour use. By many years of experience, good listening and a continuous drive to optimization, we work with you to design your ideal laboratory.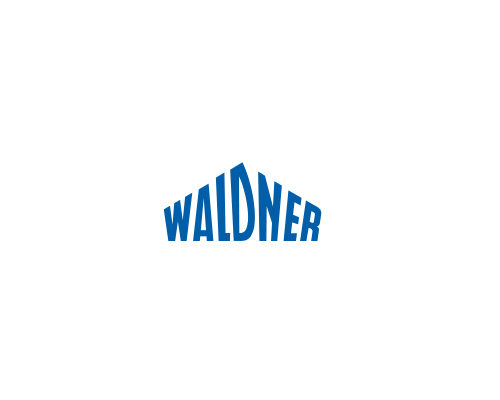 WALDNER Laboreinrichtungen GmbH & Co KG is a member of the WALDNER Group and employs around 1,100 people worldwide. In Wangen in the Allgäu region of southern Germany, we have been developing and manufacturing laboratories to meet all requirements for over 60 years.
Our SCALA laboratory equipment is based on the modular system principle. Depending on the situation and the purpose, it can be used to create new designs or to supplement existing equipment. The strict adherence to a clever grid for the basic components guarantees a maximum of design variants in every area of the laboratory.
Acting instead of reacting - this has always been our maxim: Many of our innovations and developments are the standard throughout the world and have a decisive influence on the laboratory workplace.
The permanent orientation of our work to the needs of the customer has made us the European market leader.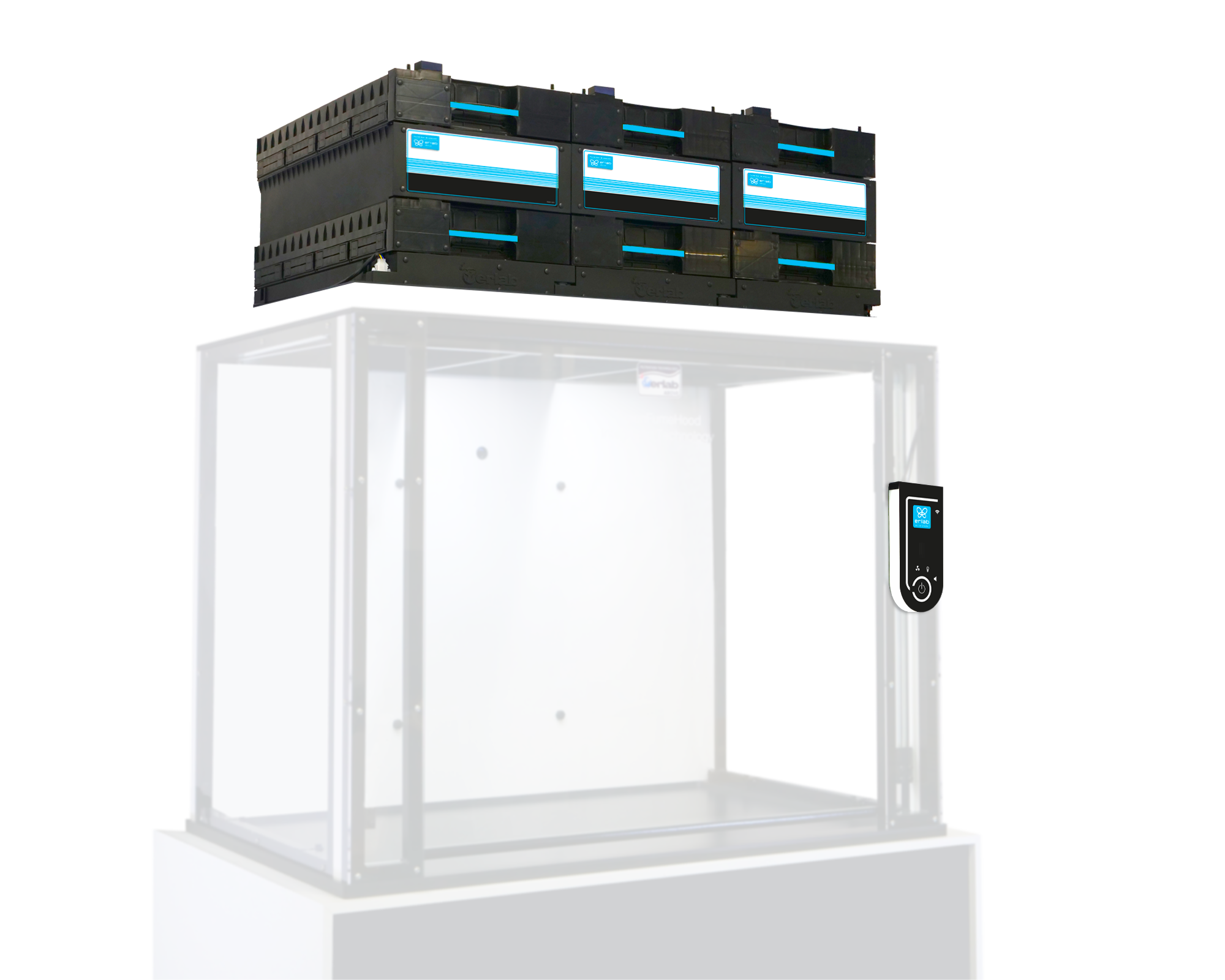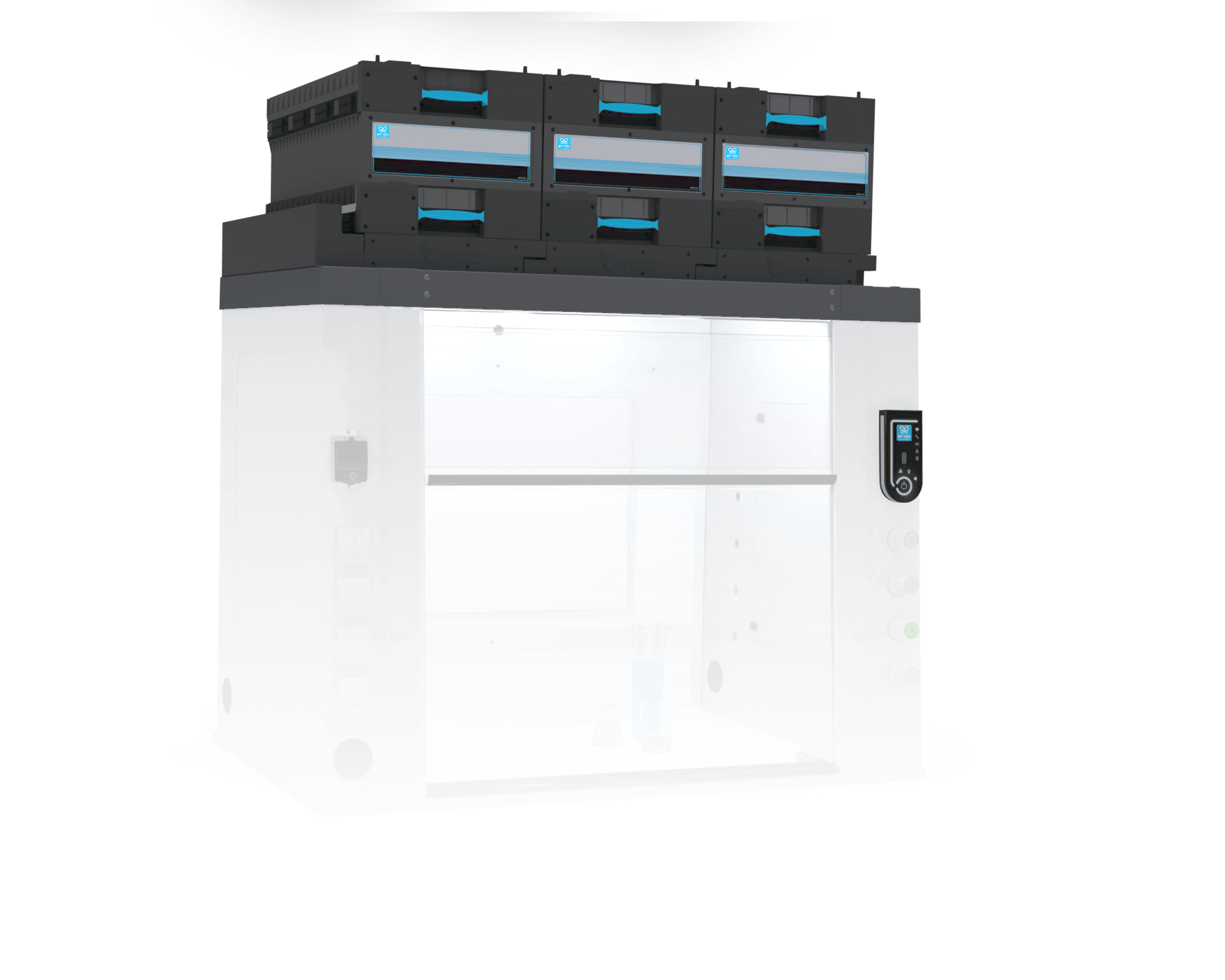 Benefits and advantages of GreenFumeHood 3 technology
Significant cost savings

Enhanced safety

Reduced environmental impact

High degree of flexibility

Optimized laboratory design
GreenFumeHood 3 technology. Optimal filtration and zero emissions.
Neutrodine Unisorb.
The first polyvalent molecular filter
for laboratory gases and vapors.
Fume hood fitted with new GreenFumeHood 3 filtration is popular with the most advanced laboratories and rivals classic fume extraction hood for effectiveness.
The result of the latest innovations from Erlab, GreenFumeHood 3 is fitted with a new generation of filters: Neutrodine Unisorb.
This new technology, developed by our R&D laboratory for over 5 years, has been tested hundreds of times, from the first filtration material trials right up to the performance evaluation of these new filters in real-life situations.
Neutrodine Unisorb greatly increases the retention capacity for most vapors emitted by laboratory procedures.
These improvements are significant for the molecules known to be the most difficult to retain with classic activated carbon filters, namely polar VOCs with low molar mass and boiling points.
This research was the subject of 2 new patents filed by Erlab:
Filter anti-settling system: US patent number 7,563,301

Neutrodine Unisorb filter: US patent application number 12/465,434
Advantages of Neutrodine Unisorb filtration.
Advantages of Neutrodine Unisorb filtration:
Ability to simultaneously handle solvents, acids, and bases with the same filter.

Unprecedented retention capacity.

Unique formulation without carbon blend.

No heavy metal impregnation.

Neutrodine Unisorb Filter performance tested in accordance with the AFNOR NF X15-211 standard.
Improved performance compared to classic filters.
Neutrodine Unisorb. Polyvalent filtration technology at the heart of GreenFumeHood 3.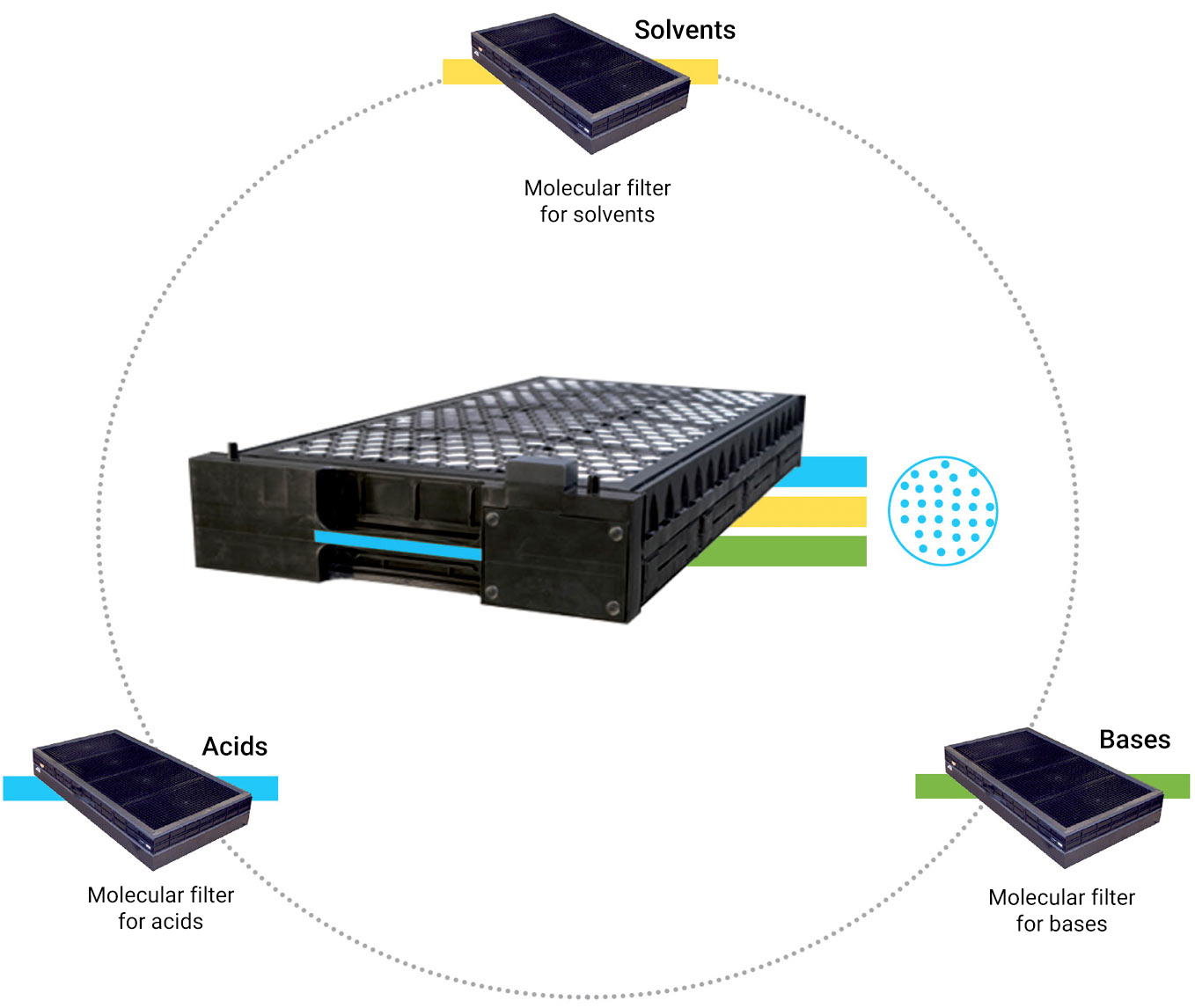 The GreenFumeHood 3 filtration column.
A modular column suited to all your present and future
laboratory needs.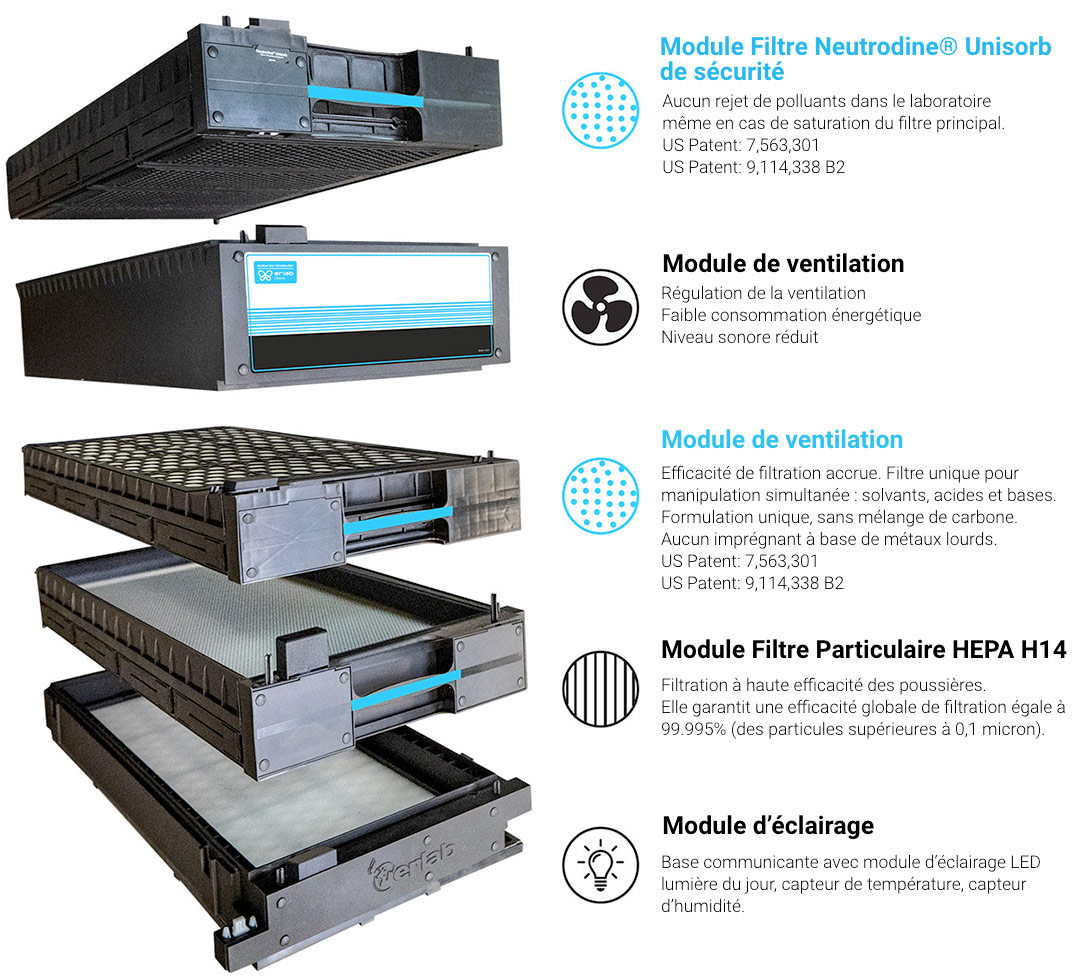 Filtre intelligent :
Une puce électronique embarquée permet une optimisation de sa gestion lors de son utilisation
Capteur de performance de filtration :
Capteurs solvants, acides, formaldéhyde
Poignées intelligentes :
Reconnaissance automatique du filtre et meilleure prise en main.
Lame / Gouttière :
Le système lame / gouttière garantie l'étanchéité entre les deux filtres.
Capteur humidité / température :
Détection de valeurs anormales dans l'enceinte.
Préfiltre :
Détection de valeurs anormales dans l'enceinte.
The GreenFumeHood 3 filtration column can be adjusted according to your needs.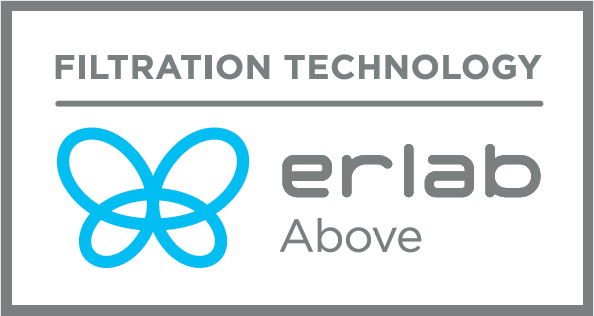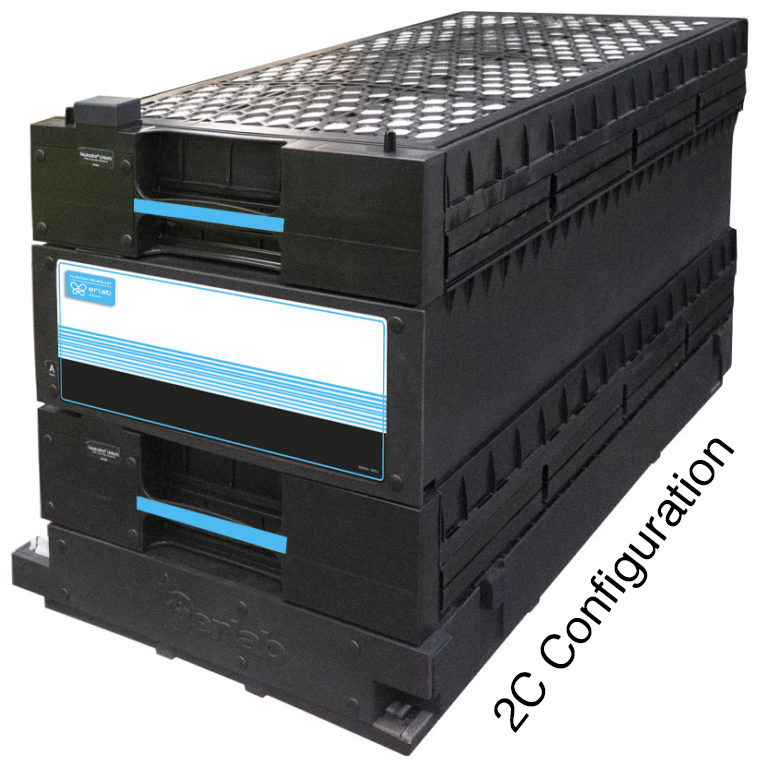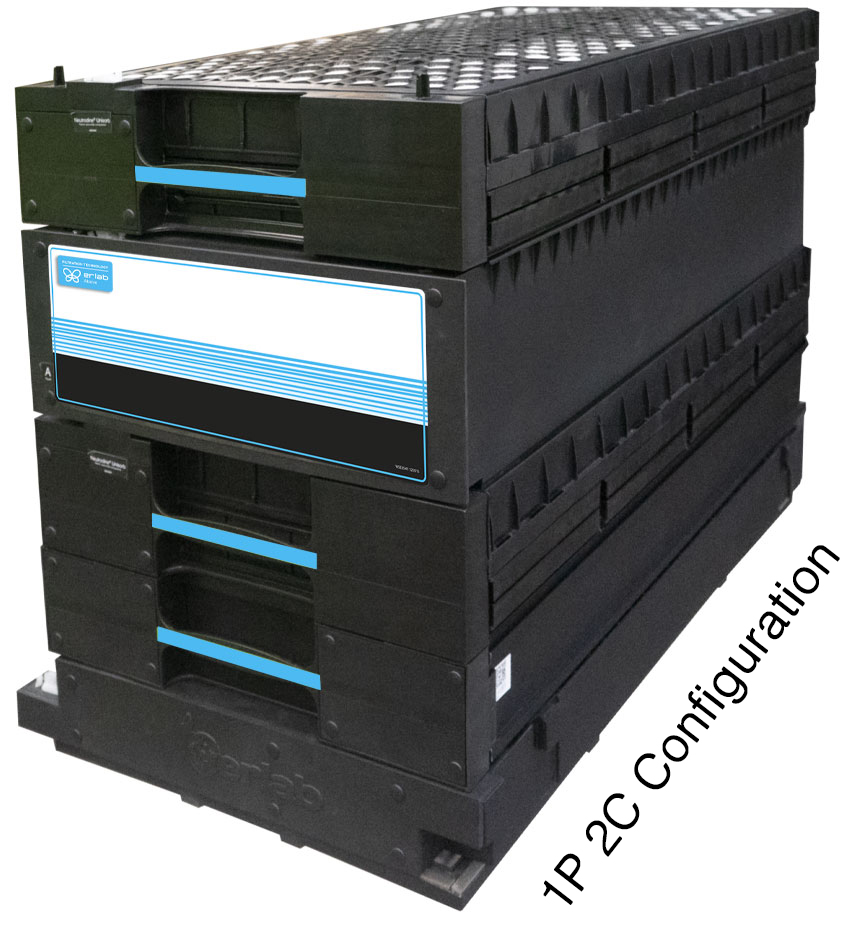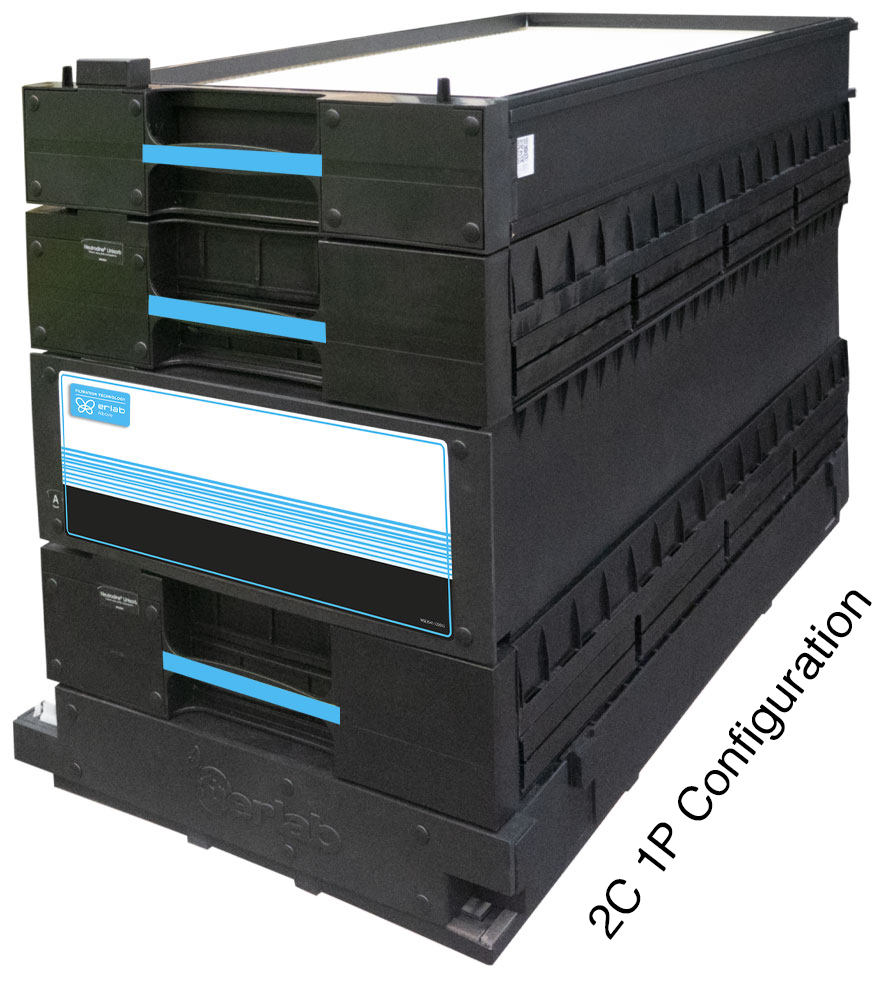 Simple and intuitive communication methods with Smart technology.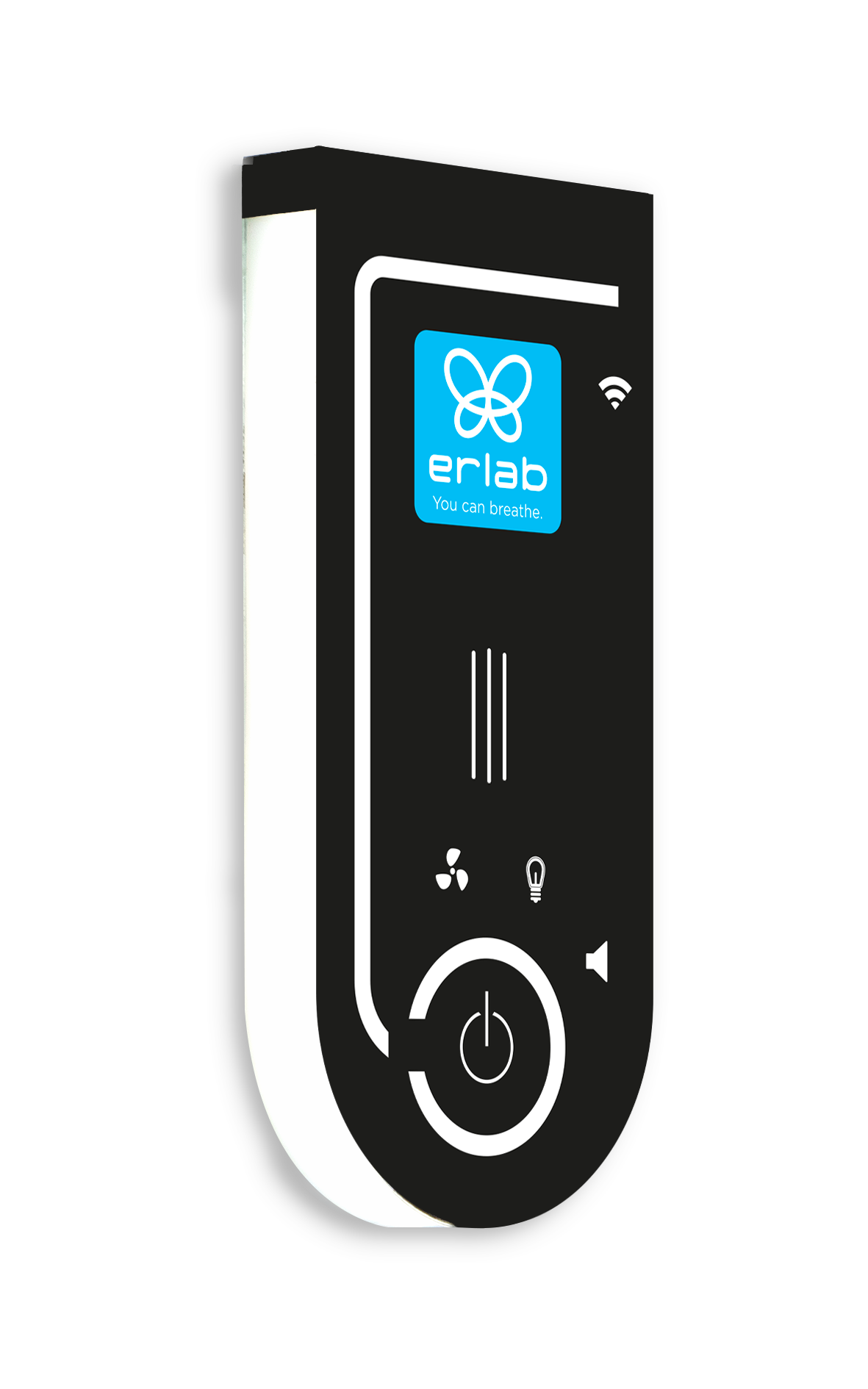 Simplified access (PC, Tablet, etc.)
Connection to command module via wifi or ethernet.
Simpler and safer Smart alert system
Alerts via light and sounds pulses. U.S. Patent: D10, 528, 014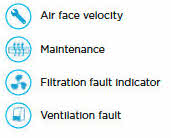 Simplified and intuitive commands
Touch screen icons.
Smart Command.
Free yourself from operational constraints with this new control module.
Activate the power of Smart Technology.
This communication interface allows operators, through simple and intuitive use, to focus all their attention on the essential: handling chemicals.
Using light and sound signals, Smart technology indicates the user's protection status. Smart Command, included in all our GreenFumeHood 3 filtration packs, is there to alert you with complete simplicity.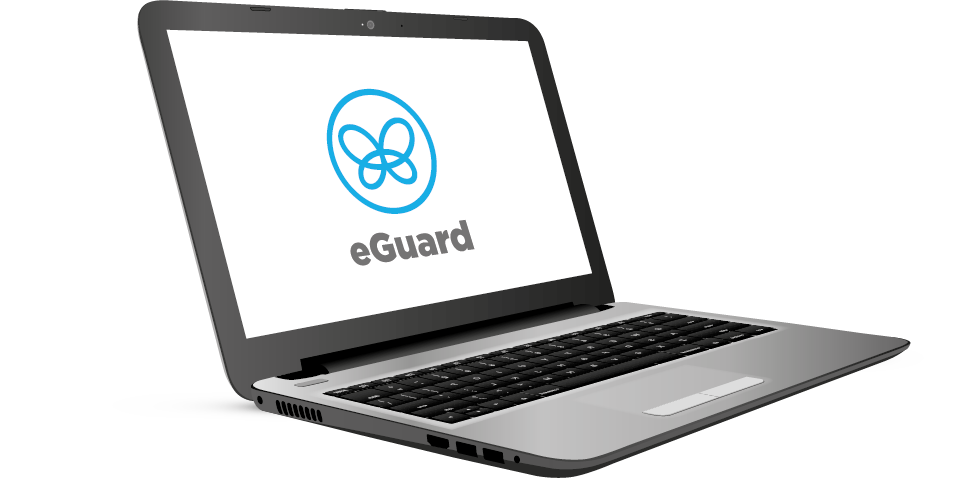 eGuard app for GreenFumeHood 3. The app for remote device monitoring and increased
user safety.
Enjoy the highest level of safety with the new eGuard app for GreenFumeHood 3.
Keep up to date on your laptop wherever you are, thanks to eGuard for GreenFumeHood 3, included in every technology pack. The technology in fume hoods allows you to remotely monitor all your safety settings in real time using the eGuard PC.
Download the eGuard application
for GreenFumeHood 3
GreenFumeHood 3 integration technology packs. Adjustable to the width of your enclosure.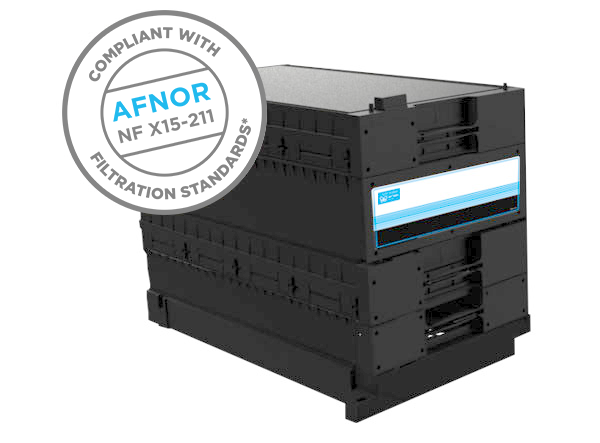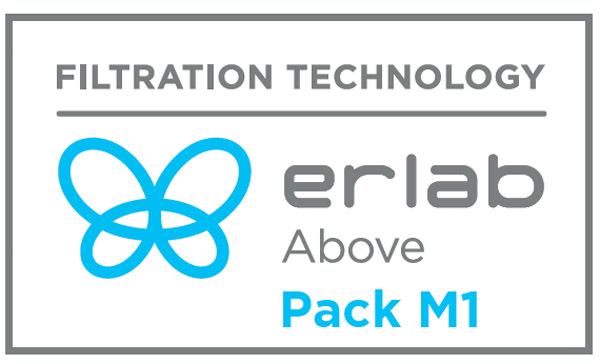 Enclosure width
3 feet
Treated air flow
220 m3/h
75W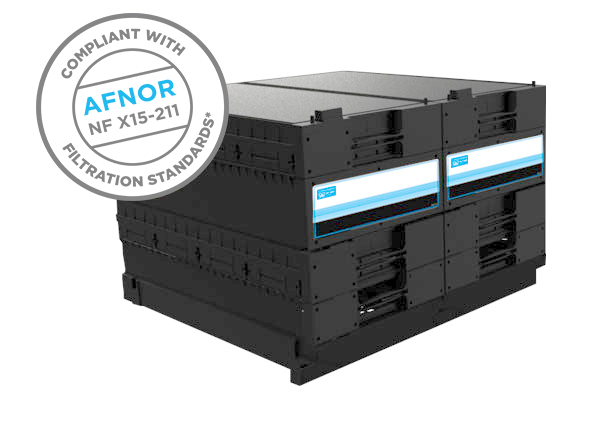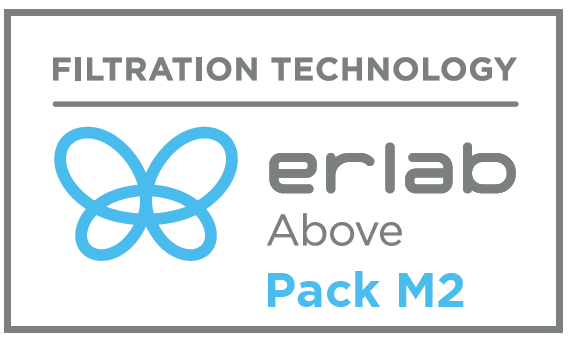 Enclosure width
4 feet
Treated air flow
440 m3/h
140W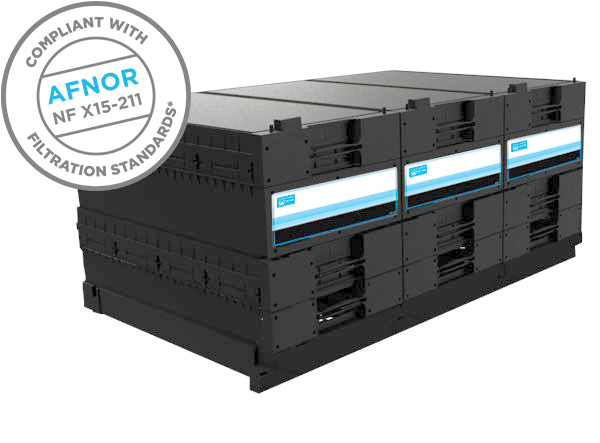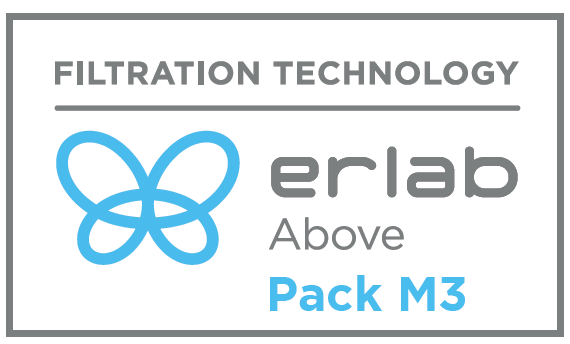 Enclosure width
5 feet
Treated air flow
660 m3/h
200W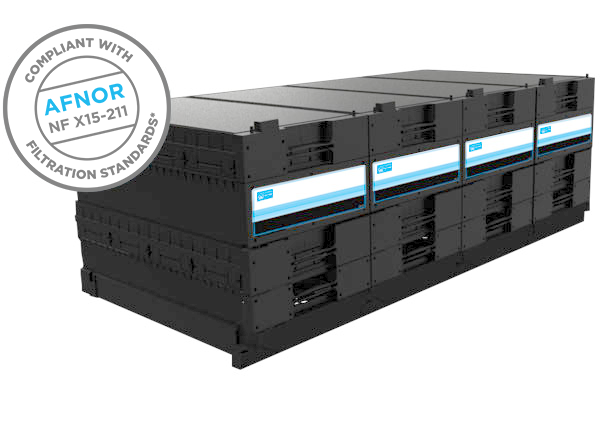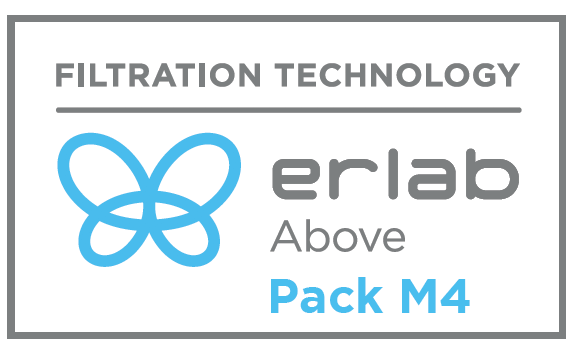 Enclosure width
6 feet
Treated air flow
880 m3/h
280W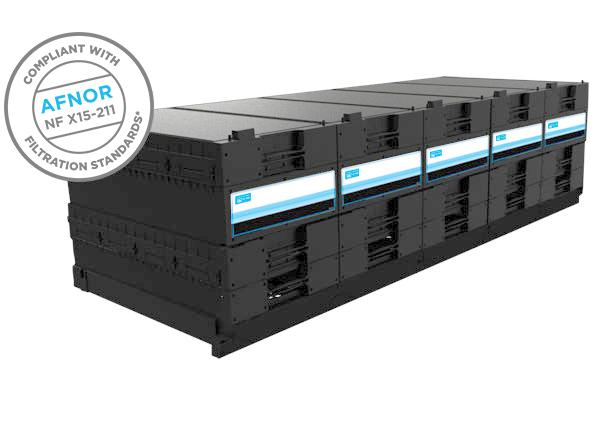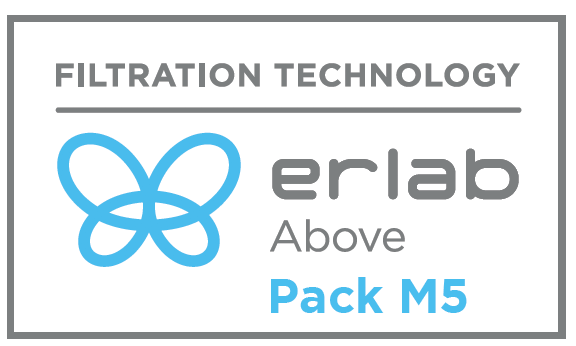 Enclosure width
8 feet
Treated air flow
1100 m3/h
340W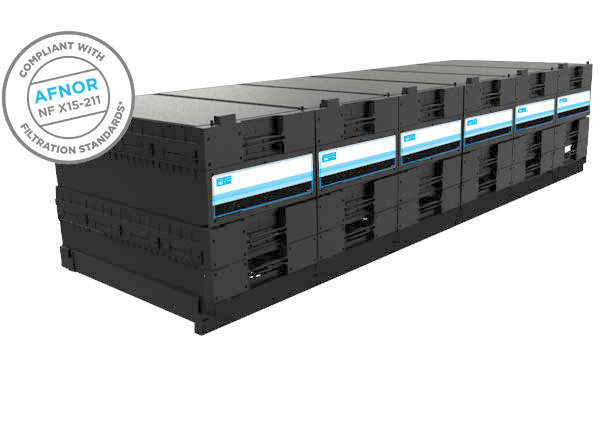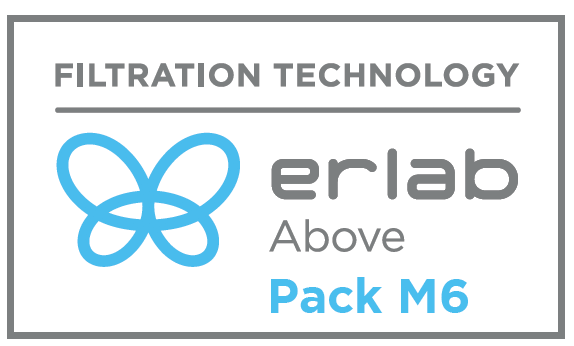 Enclosure width
10 feet
Treated air flow
1320 m3/h
400W