State funding for this STEM initiative had already been set and finding a solution to reducing construction costs was vital to the project's success.
To offer students enhanced curriculum, the 4-story addition to Hemenway Hall at ChemLabStudentsFramingham State University includes (8) Organic, Inorganic, Analytical, Biochemical, and Physical Chemistry teaching laboratories utilizing a total of (49) filtered fume hoods. The addition is LEED Silver certified. The project received an Honor Award from the Boston Society of Architects / Massachusetts Architectural Access Board, for the significant improvements to the existing buildings and surrounding landscape that have resulted in full, universal access.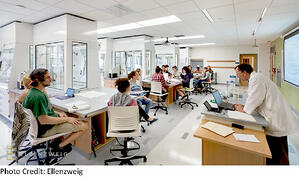 The large and expensive mechanical systems required to support a 100% ducted hood design contributed to the project going over budget. State funding for this STEM initiative had already been set and finding a solution to reducing construction costs was necessary, while not sacrificing safety or functionality.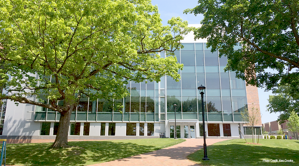 Incorporating Green Solution Hoods from Air Master Systems, featuring Erlab's GreenFumeHood Filtration Technology, into the design provides a safe working environment for the students, minimizes the HVAC systems, offers significant energy savings for the school, and helps to achieve LEED Silver certification.
The chemistry involved is easily handled by GreenFumeHood Filtration Erlab GreenFumeHood 3 technology Technology. The combinations of acids, bases and solvents used by the students will be fully adsorbed by the Neutrodine filters and last greater than 2 years as proven at other installations with similar chemical usage. The architect designed a mix of mostly filtered and some ducted fume hoods which reduced the mechanical systems size by 25%, lowering their costs by over $917,000 and providing a net savings of over $330,000 on the project. With this savings, it was possible to complete the entire 6th floor and avoid having unusable shell space.
Reduced the building's carbon footprint by 68% as compared with the national average of AirMasterBankOfUnitssimilar buildings.
$330,000 net construction cost savings
$39,200 estimated annual operating cost savings
Assisted the project in maintaining an aggressive construction schedule
Less operational noise when students are using the hoods
Outfit the entire 6th floor with the construction cost savings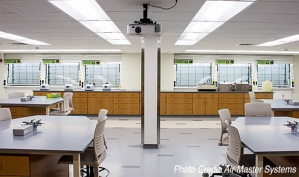 As the Inventor of the ductless laboratory fume hood and worldwide leader since 1968, Erlab's passion is to focus on the research and development, design, and manufacturing of cutting-edge toxic gas air filtration for your laboratory. Higher Education is the leading application for filtered fume hoods globally. High fume hood densities, such as in organic chemistry teaching labs, coupled with strong administrative controls make teaching labs safe and ideal for using and benefitting from filtered fume hoods. With over (700) GreenFumeHoods in over (200) schools saving more than $3mil annually in HVAC operation costs, Erlab has experience solving challenges just like yours.